Woodworker Dilo Fernandino Featured on Brazilian TV
More well-deserved recognition has been visited upon Dilo Fernandino, the man who builds full-size rosewood baroque masterpieces by hand in his 42 square foot workshop. After his first solo exhibition in Belo Horizonte, Brazil in February, TV Globo, one of the world's largest television networks, featured his signature work and interview during a program on April 3, 2010. Here is a video of the interview, along with a transcript of the audio translated into English:
Introduction: (0:13) Antique furniture and the greatest Brazilian sculptor, Aleijadinho (known as the Little Cripple) have inspired the work of a contemporary Brazilian sculptor. Our TV team followed his creative process, which starts with research and design.
Narrator: (0:27) The origin of it all is what was written in books. Dilo is a researcher of the old woodworking techniques. There are complicated methods that are described only in foreign literature.
Dilo: (0:41) The English-language books, for example, teach elementary things that our old woodworkers used to know, but that most of the young ones do not know any more. For example, how to sharpen a chisel or a scraper.
Narrator: (0:56) Practical knowledge and a keen eye for a special art period: the rococo.
Dilo: (1:03) The carved decoration of a rococo artwork is balanced concerning its vertical axis, but it is asymmetric. One side is different from the other. So I think this "finesse" pleases the eye and is a challenge to the carver.
Narrator: (1:20) Research and talent guide his work. The first lines begin in his study. The project must be precisely drawn.
Dilo: (1:31) Whatever I can draw on paper, I create it in the wood accordingly. If it is not good on the paper, it will be bad in the wood. Sometimes it takes months. My trial sketch has to be laid aside for some time so that my mental concept can ripen. I come back and take a look. If I do not like it, I remake it three or four times, until the moment it pleases me.
Narrator: (1:55) From the study to the tiny shop inside his apartment. The drawing of an ancient Greek god is glued on a board.
Dilo: (2:05) People usually draw it by hand on the wood. However there can be a transposition error in this step. Whenever you transfer a drawing from the paper to the wood, you make a little mistake. The drawing gets distorted. My procedure of gluing the paper to the wood keeps the drawing like the original idea. That one is a glued photocopy to keep its fidelity.
Narrator: (2:31) Dilo is a master of "ebanisterie," a specialty that melds cabinetmaking with sculpture. The particular way in which the work is accomplished makes this craft more extraordinary - done only by hand utilizing traditional tools.
Dilo: (2:47) The feeling of cutting the wood by hand is very pleasant to me. I think the machinery would steal this pleasure from me.
Narrator: (2:58) His tools look like ancient tools.
Dilo: (3:02) I have rasps and files in this toolbox which are used for removing the wood by friction. Those other toolboxes contain chisels. These are English micro chisels from a factory that has been producing chisels for over 200 years. These are Japanese chisels that were made with a very important technology called laminated steel - the same used for producing samurai swords, because it keeps a very sharp edge.
Narrator: (3:44) For carving this way, skill and strength are necessary. The artist sorts from old salvaged wood only the noblest and strongest: rosewood and "pau marfim."
Dilo: (3:56) If you carve in a very soft wood, its fibers will get torn or smashed. The hard wood is difficult to cut, but it accepts the high level of detail you want to define.
Narrator: (4:12) The Poseidon mask is Dilo's most recent work. The first ones were this reliquary [a receptacle for displaying sacred relics] and the crucifix. At that time he was still a sixteen-year-old boy looking for his own style. Afterwards he built the bed, the side tables and other pieces of furniture. He spent five working years to build this cabinet decorated with scrolls, sculptures and masks. His signature written in Latin increases the nostalgic impression.
Dilo: (4:43) I began by sculpting the frontispiece followed by the façade. Afterwards I made its laterals, the Atlases and the abutments. The abutment design was based on my research of Aleijadinho's works found in a Mother Church.
Narrator: (5:06) This Mother Church is famous due to its rich set of Aleijadinho's preserved 18th century artworks: 3 altars and 2 hanging pulpits. The ground pulpit was built by Dilo. It was a challenging commission.
Dilo: (5:20) I was panic-stricken at first. I hesitated to accept such a big commission because my shop is so small.
Narrator: (5:29) However Dilo accomplished it in a record period of time: 45 days. We can imagine how proud he was. Now we can understand the real meaning of the word "achievement."
Dilo: (5:41) I wanted to reach the level of Aleijadinho's feet, and in a way I actually have. Everyone who visits that church will see Aleijadinho's hanging pulpits, and mine standing below them.
(6:09) [Narrator previews a future program]
###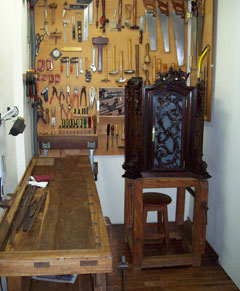 More articles telling Dilo's story:
Readers Respond to "My Unusually Small Workshop"
Solo Furniture Exhibition in Brazil
---
Dilo can be reached via email at dilofernandino@gmail.com
Visit Dilo's woodworking website at www.carving-in-wood.com
April 23, 2010
Saw Milling
I love my truck when it's full of wood. Look at all that walnut lumber. I had just about as soon have my truck full of walnut lumber as to have it full of hundred dollar bills. Look at that stuff!!
Let me tell you about this little adventure. Some friends down the road who know I enjoy wood working offered me two walnut trees off the family farm. The trees were out by the barn and blacksmith shop and had some electrical wires through one of them, so I knew taking them down was beyond me. I hired a professional tree service fellow to take them down and haul the good parts over to a friend who has a portable sawmill. Tree guy came out last week with his bucket truck and his small tractor and trimmed them up and then put the trunks on the ground. The grapple hook on the front of his tractor made short work of loading the tree trunks and they were soon at the sawmill.
Now understand the problem with walnut trees and particularly trees close to a house or a barn and in this case, a blacksmith shop, is metal. People hang horseshoes on limbs (that's good luck for most people--just not for sawyers), drive nails in tree trunks, and nail fences to them. The sawmill guy is willing to saw them for me, but he knows about metal and before he starts, he wants me to stand good for the blades at about $30 each.
We struck a deal and he started sawing while I was still there. I walked around the mill a good bit trying to figure the safest place to be when the saw blade found the metal I thought was in there. I had visions of metal chips and blade chunks flying everywhere, but thank goodness I was wrong. When the blade hit the first piece of metal, it sounded like a bug zapper. Just a little short "bzzt" and it was through. After several more hits, that blade was done and he reloaded a new blade. There was some beautiful lumber in these trees and after a couple of slabs off the top, we started getting 12 to 16 inch wide boards at an inch and an eighth thick. We sawed one trunk right down the middle of the pith to make bowl blanks. Those bowl blank boards are so heavy, I will have to use the chain saw to cut blanks off the end of the board while it is still on the truck. Otherwise I will not be able to get it off the truck.
When I count up to see if this whole deal was worthwhile, I think it was. I spent about $600 and I have 23 boards which average 12 inches wide and 6 feet long. That computes to around 138 board feet. Plus I have enough for about 20 bowl blanks four to five inches deep. Even allowing for waste, I think you could not buy this lumber for $600. Maybe I can sell some of that dern metal and recoup part of my cost.
April 15, 2010
The Power8: A Workshop in a Suitcase
The store loaned me a Power8 Workshop to take home and see if I could make it dance. I was skeptical since these all-in-one cutesy things have come and mostly gone for years. Having only seen the brochure, I placed it on that great continuum of woodworking tools somewhere just north of the deluxe Xacto knife set (the one with the saw blade included) and just south of the Shop Smith Mark 5. I took it home, watched the video and plugged it up so it could charge itself and waited, all the time thinking Easy-Bake Oven.
Well, here's the verdict. If you ask the right question, this thing is the answer. First of all, I started out by asking the wrong question. Am I going to use this instead of my Delta Unisaw? Not if I am in my shop. Would I use it instead of my band saw to cut a curve in 8/4 cherry? Not if I can help it. But if I have to repair the upstairs bath cabinet in my rental house, then I will put this thing over my shoulder and save three trips back to the shop.
When I was in the store to pick this up last week, we had a good discussion about who would buy this thing. I never felt I had a clear answer until I got it home and started thinking outside the box (so to speak). (It's all in one box, don't you see?)
If you approach it from the standpoint of one of those kits of portable tools you might see on sale at the big box store around Father's Day and Christmas, then it makes a huge amount of sense. The total price is right in line with the name brands for a kit that includes a cordless jig saw, circular saw, drill driver, and flashlight, all running on an 18 volt battery.
And then on top of that (and beyond any of the other kits), you can turn the drill driver into a drill press, the circular saw into a table saw, the jigsaw into a scroll saw and the flashlight into a table light, and you can see where this is going. If I want to get a set of portable tools, then why not add the table saw/scroll saw/drill press/table light functions on top of it for no additional charge?
If you are a handy-person with limited funds, live in an apartment or small house with little space and big dreams, or a student starting out in woodworking, or a modelmaker, then this would make an excellent tool system for you. And say if you have a cabin at the lake or in the mountains, or work on boats, or go traveling in a motor home, or handle other folks' home repairs out of the back of your truck, well, you get the idea.
It's versatile, it's very compact, and it's highly portable, and there are really cool functions built into this box. A large canvas tool bag containing all the basic tools stores in a sturdy steel-reinforced padded case with a total weight of about 30 pounds.
Take the soft bag out of the box and plug the battery/handle into the corner of the table where it powers any of the tools mounted on the table. If you purchase an extra battery/handle (for $49.99), you can plug the second battery into an alternate extension on the back corner of the table so it will charge while you use the table.
Changing tools is a snap – lift the table top, pull back one slide, pop in the tool, plug it up inside and you're ready to go. I timed myself changing from the table saw to the jig saw and it took me 29.2 seconds.
The saw fence is the post for the drill press, a saw fence, a carpenter's level, a post for the light, an iPod speaker system, (well, maybe not) and it stores out of sight on the bottom of the box when not in use. The miter gauge doubles as a protractor, there is a plastic shield for the scroll saw that fits onto the post, there is a plastic blade guard for the table saw in addition to the retractable blade guard for the circular saw, the push stick for the saw is also the handle for the drill press – it just goes on and on.
Oh yes, there are two plastic storage boxes full of drill bits, nut drivers and jig saw blades and they snap neatly into the back of the hard case. I love the way this thing fits together.
So, do you need versatility? Compactness? Portability? Affordability?

There's even a video. CHECK IT OUT
And hey, Father's Day is just around the corner.

Earlex 2900 HVLP Sprayer - Versatile, Affordable and Easy-to-Use
Highland Woodworking is now the exclusive supplier for the Earlex 2900 HVLP Spray Station, which has brought a new level of performance and affordability to spray finishing.
The compact Earlex HVLP unit is an exceptional value with its aluminum spray gun, teflon-coated paint cup and 13 foot spray hose, all of which store neatly onboard the turbine unit.
HVLP technology now makes it easy for woodworkers and do-it-yourselfers to step up to spray finishing without the expense and steep learning curve once associated with spray finishing.
Our versatile Earlex 2900 HVLP sprayer comes equipped to apply a variety of finishes ranging from lacquers, varnishes, and polyurethanes to modern water-based finishes. Thinned latex paint can also be applied both interior and exterior.
We supply the Earlex 2900 HVLP sprayer with a quick start guide as well as master finisher Jeff Jewitt's excellent DVD and illustrated guide to spray finishing. The entire package deal is priced at only $149.99.
April 8, 2010
Wood News April edition hits the stands!
Just in time for the first week of the Major League baseball season, Jack Masten provides a step-by-step tutorial on turning your own classic baseball bat from Northern White Ash.
And that's just one of many fascinating articles in this month's Wood News. We've got a new shop featured - Jim Chandler built his workshop in a fully restored 111-year-old barn.
There's also a nice introduction to the Power8 cordless workshop, a versatile piece of new innovation merged with good solid craftsmanship that will almost certainly make your work as an experienced woodworker or a do-it-yourselfer easier, incorporating a table saw, a circular saw, a drill press, and many other useful functions into one compact portable workshop.
Catch up with the latest news on our favorite Brazilian Woodworker - Dilo Fernandino, take a look at Mike Henderson's quick course in shop made cauls, review the new additions to our 2010 woodworking class schedule or take advantage of some of the great deals at Highland Woodworking for Festool, Steel City, Earlex, Kreg, and many more!