FATHER'S DAY GIFT LIST, Kidegory III

Kidegory III ($250 and up) is the ultimate Kidegory and the gifts are fitting. Now that you are out of graduate school and the big wedding is done and you are settled into that big job with the investment firm, it is time to come across with the good stuff.
---
Festool T12+3 Drill Set
Saying "FESTOOL" is like saying "BENTLEY" or "ROLEX". Festool has just moved it up about two notches and this new little drill set is a fine addition to the Festool line. Most woodworkers have built up a collection of drills and accessories over the years,. They get a new drill for Christmas, or they buy a little up-scale drill for a special project, and subsequently have three to five drills in the shop. Each one does a specific task and Dad knows which one is best for each use. Now comes the Festool T12+3 drill. On most drills found at the big box stores, this "12" would define the drill's rated voltage. With the Festool drill, however, I think the "12" must stand for the nuclear reactor model number. Thanks to the efficiency of its one-of-a-kind brushless motor, the Festool T12+3 drill produces greater torque than either Makita or DeWalt drills rated at 14.4 volts. (Its big brother, the T15+3, out torques their 18 volt drills!) All this while being so ergonomically balanced that you hardly know you're holding it in your hand.
Besides its regular chuck, it also comes with three other specialty chucks that attach or detach in about 3 seconds so you can, for instance, drill at a right angle in a tight spot, or offset the bit to drill right up close to a corner. Another neat little quick-attach chuck allows you to change a bit or driver in 2 seconds flat, and it's included too. The whole set comes in its own sturdy toolbox, and until the end of July, you even get an ADDITIONAL toolbox filled with neat little removable boxes for keeping your screws and bits organized. You know the story about the guy who paid ten cows for a new wife when everybody else was paying as cheap as they could at two cows. You can bet his wife stood tall in that village. This is a ten cow drill.
---

Fein Multimaster Top
You may already seen this in a TV infomercial. Usually infomercials sell overpriced hoopla. In this case however, you have stumbled upon a solid performer. The FEIN MultiMaster powers a variety of different blades which oscillate at a ridiculous rate (up to 20,000 times a minute!) and will cut through (or sand or polish) many different materials at an astounding pace. It does those annoying little tasks around the house and the shop that you really can't get another tool to do. For instance, if you are cutting off the bottom of a door jamb to set some new flooring, this is the best and easiest way to do it. Takes ten seconds. Sand up in the corner of a drawer to get some glue out; cut the grout from between tiles in the bathroom; trim some molding to fit another piece into place; and dozens of other similar tasks. This is a top quality tool, solidly made and well worth the price. Come on here people, I mean he did pay for the honeymoon, didn't he?
---

Tormek T-7 Sharpener
You know how in the movie "Independence Day" when Will Smith flies the alien space ship for the first time and he says "Man, I got to get me one of these"? Well that is the Tormek. Now every woodworker knows about the Tormek. You see, sharpening is a skill best learned over many sessions, easily lost, and maintained only by regular and constant practice. There are people who can tell you all about secondary micro-bevels, and whether 28 degrees is better than 24 degrees for end grain, and polish the back of the chisel enough so the evil Queen can find out about Snow White. But very few people really enjoy it and are good at it. Most consider it a necessary evil. In comes the Tormek. This thing will sharpen almost anything quickly and easily, and can be set so that whatever angle you find that works for the task at hand can be precisely reproduced. The stone is constantly bathed in water so the tools don't overheat, but it is made so that the water doesn't splash all over the place. And oh, yes, the kitchen knives which need sharpening to keep peace in the family since you moved out -- Dad will sharpen those for funsies. And by the way, for the next couple of months, it even comes with an AXE. That's right, you get a free axe. Don't tell Dad about the axe part and keep it for yourself. (Would you really do that? Do you know how many times he changed your diaper?)
---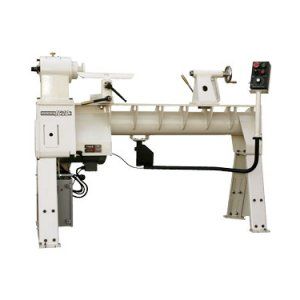 Oneway Lathe
This is the biggest baddest boy on the block. This is Father of the Year stuff. This is new grandbaby, job is working out just beautiful, spouse is going back to work soon, new car came in yesterday stuff. In fact, if you want to do this right, take Dad with you to Highland Woodworking and the guys over there will help you and him pick out the right one. Just bring the checkbook.
Oneway makes beautiful lathes which are the standard in the field and Highland has the complete range. (There is even one where you can sit down in a chair or a wheelchair and the lathe folds forward into your lap.) Each lathe has a four digit label — the first two digits indicate the diameter you can turn and the last two indicate the length of spindle you can turn. For instance, there is the 2436 model upon which you can make a 24 inch diameter bowl or a 36 inch long spindle. The 2436 is likely too big for most people unless you're doing heavy commercial work. Model 1640 is an excellent all-purpose machine that will serve most people for the rest of their lives. While you are there, sign Dad up for a class on woodturning from Highland and let him start doing it correctly from the beginning. Pretty soon you should start getting handmade signed bowls from him which will be a joy forever.
There is joy and peace and pleasure in woodturning, and isn't that the best gift of all for Father's Day?
Happy Father's Day! Give your Dad a great big hug.