New Red Hot Special!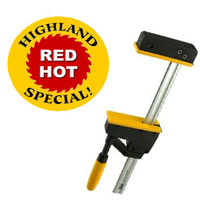 In recent years, many companies have tried to copy the venerable Bessey K Body clamps - with varying degrees of success. One of the better clones has been the Gross Stabil PC2 Parallel Clamps. Recently, Bessey purchased Gross Stabil. They don't need two different versions of the same clamp, so the Gross Stabil model has been discontinued and you benefit from outstanding prices on some great clamps! Quantities are limited, so act fast - once they're gone, they're gone for good!
Check out the Red Hot Special!
(If you don't see the Red Hot Special item on our homepage, that means we've sold out, so check back soon for our next item!)